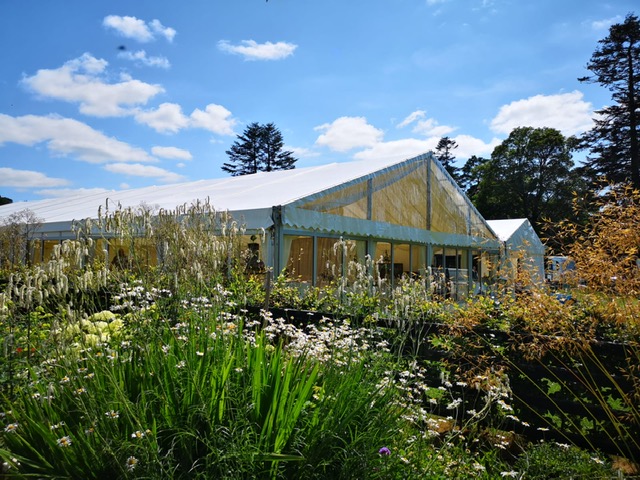 Your Wedding Day
Due to the current circumstances surrounding Covid-19 and the uncertainty around when we will "get back to normal", a lot of couples have unfortunately had to make the difficult decision to cancel or postpone their wedding days. While we understand that this is a distressing time for all, and you may be feeling unclear, unmotivated and overwhelmed with it all, this may also be the time to use our isolation time to get creative, imaginative and bring out the inner artist you never knew was there.
Whether you need to look for new wedding solutions or are just starting to plan your dream day, the following suggestions may help to get your creative juices flowing and piece together your dream Wedding Marquee.
Blank Canvas
The special thing about choosing a Marquee for your Wedding Day is that it offers you the opportunity to work from a blank canvas – you can start from scratch, together with our professional guidance to design your very own wedding space – no two marquee weddings venues are ever the same.
When hiring a marquee for your wedding, you can choose how to set out the interior, the type of tables you would like and the positioning of these, the type & size of stage and dance floor; the decor, even the view from the Marquee – the list is endless. All of this can be specifically tailored to suit your wedding day requirements.
Whether you are looking for a rustic theme or a more elegant feel, we have a range of options suitable for you; from solid side marquees to clear roof structures and diamond end structures – the list is endless.
Bringing Personality to your Décor
A Marquee can be tailored to allow you to add your individuality into the décor, without being constrained.
Now is the time to use this extra time we all have on our hands to bring out your creative side by designing your wedding decor yourself. Get googling, set up Pinterest boards and get creative. We have had some extremely crafty brides in the past creating some beautiful decor including Wagon Wheels, personalised table plans and delightful cake displays.
Lighting
There are so many different options available when it comes to lighting up a marquee, both internally and externally. Lighting can really add a magical atmosphere to your wedding day. This element also depends on the time of year and when you can really get the most benefit out of it. We will be posing shortly a short blog on different types of lightning options available to you but to briefly mention,  you can chose from romantic fairy-lights to create a beautiful starry night feel, to LED lighting for that party feel or to light up garden area.
Bar Units
Let's face it, this will be the busiest area of the marquee come party time! We therefore have a selection of bar units available to suit your specific requirements – from our BRAND-NEW Curved LED units, to our hand-crafted Pallet Bar. If we don't have it, we will source it for you.
Dance floors
Another area of the Marquee that will see a lot of footfall come party time! And people will be paying more attention that you think when they are "Rockin' the Boat"!
We have a range of dance-floors suitable for your theme, be it a rustic parquet finish or a high gloss, classic white dancefloor, we are here to help.
Backdrop
Our versatile structure options allow our couples the ability to bring their landscape to life. With our clear soft and solid wall options, the ability to bring the outside in is what sets your wedding apart from others. Rather than being confined by the walls of a building, you can enjoy the beautiful backdrop your destination has to offer be it beautiful gardens, sea views or rolling hillside

The perfect winter weddings
With the current onset of the rescheduling of weddings, it is quite likely that a lot of the "popular" dates will fill up quite quickly but please consider the "off-season" dates too. Some people are unsure about the thoughts of a winter marquee wedding. "What if the weather is bad?" " What if it is raining?" are the usual questions we hear. However, we can assure you that some of the most beautiful structures we can build have been during the November/December/January season. The ability to use lighting and create the most beautiful and magical winter wonderland at this time of year is priceless.
Our structures are watertight and certified, and we provide heating options to keep your guests toasty in your winter wonderland.
If your wedding plans have been changed or you have just started your wedding planning journey CONTACT US today!

We are here to help build "Your Day, Your Way".