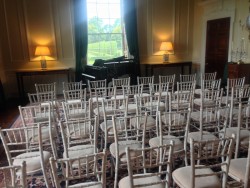 We have finally come to the end of Wedding Season 2015 and what a fantastic day was had by all.
Even with the weather not being as delightful as required, our fantastic wedding couple had their ceremony using our new Chivari Chair layout and then danced the night away into the wee small hours in their own designed marquee.
 A big THANK YOU to you all and thank you for all the great complements on the day. It was our pleasure to look after you.